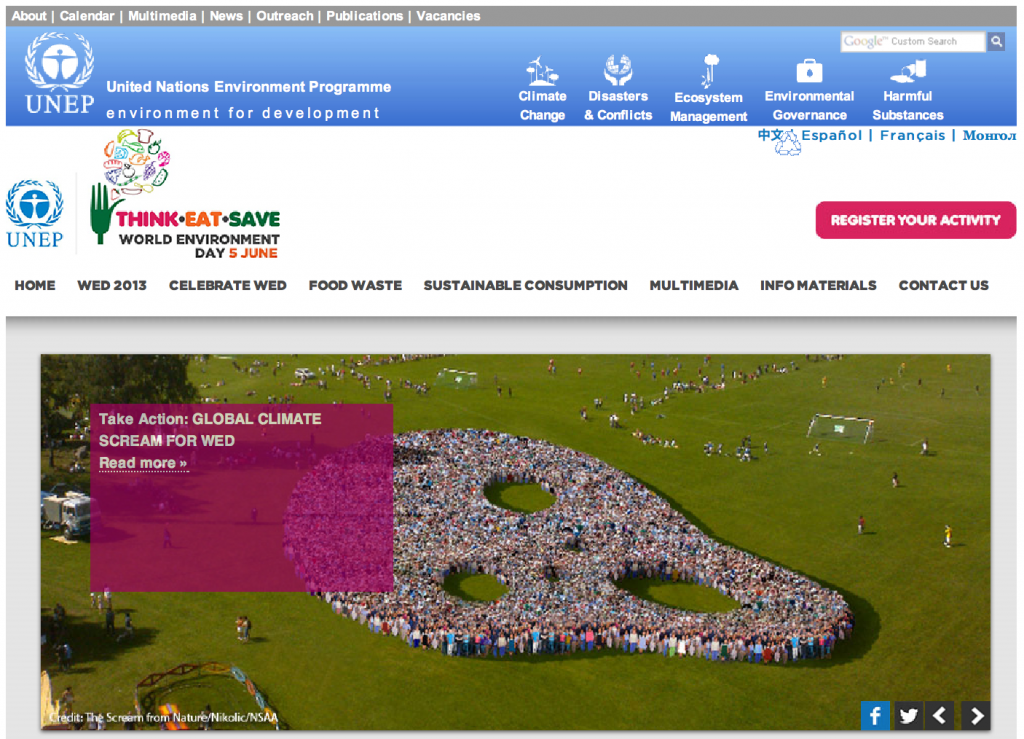 Call to action! World Environmet Day 5th of June
---
The Scream from Nature will take part in UNEP's activities on World Environment Day the 5th of June. We challenge you to take part as well, read on and see how!
Our collaborating partner United Nations Environment Programme is preparing for the World Environment Day. As stated by UN Secretary-General Ban Ki-Moon:
Although individual decisions may seem small in the face of global threats and trends, when billions of people join forces in common purpose, we can make a tremendous difference.
Through decades of WED celebrations, hundreds of thousands of people from countries all over the world have been mobilized for environmental action. You can join in! If you want to make a Scream from Nature, or you want to participate with other actions, you are welcome to register your activity here.
Our activity is to gather Screams from all over the world, in all kind of materials and shapes. The campaign will start on World Environment Day the 5th of June.
Join in!
Your contribution will be part of our web gallery. Further, there will be a screen exhibition in Norway's National Gallery this summer. As the National Gallery and the Munch Museum is showing the world's largest Edvard Munch exhibition ever, the Scream from Nature project will be shown on screen in the reception area – many people will see your contribution. And new contributions will be added regularly during the Munch150 exhibition, which lasts until th 13th of October 2013.
Every month, the 3 best Screams will receive special attention.
In the jury:
From UNEP: Mr. Wonwosen Asnake
From Munch150: Mrs. Elsebet Kjerschow
From The Scream from Nature: Mrs. Lise Wulff
---