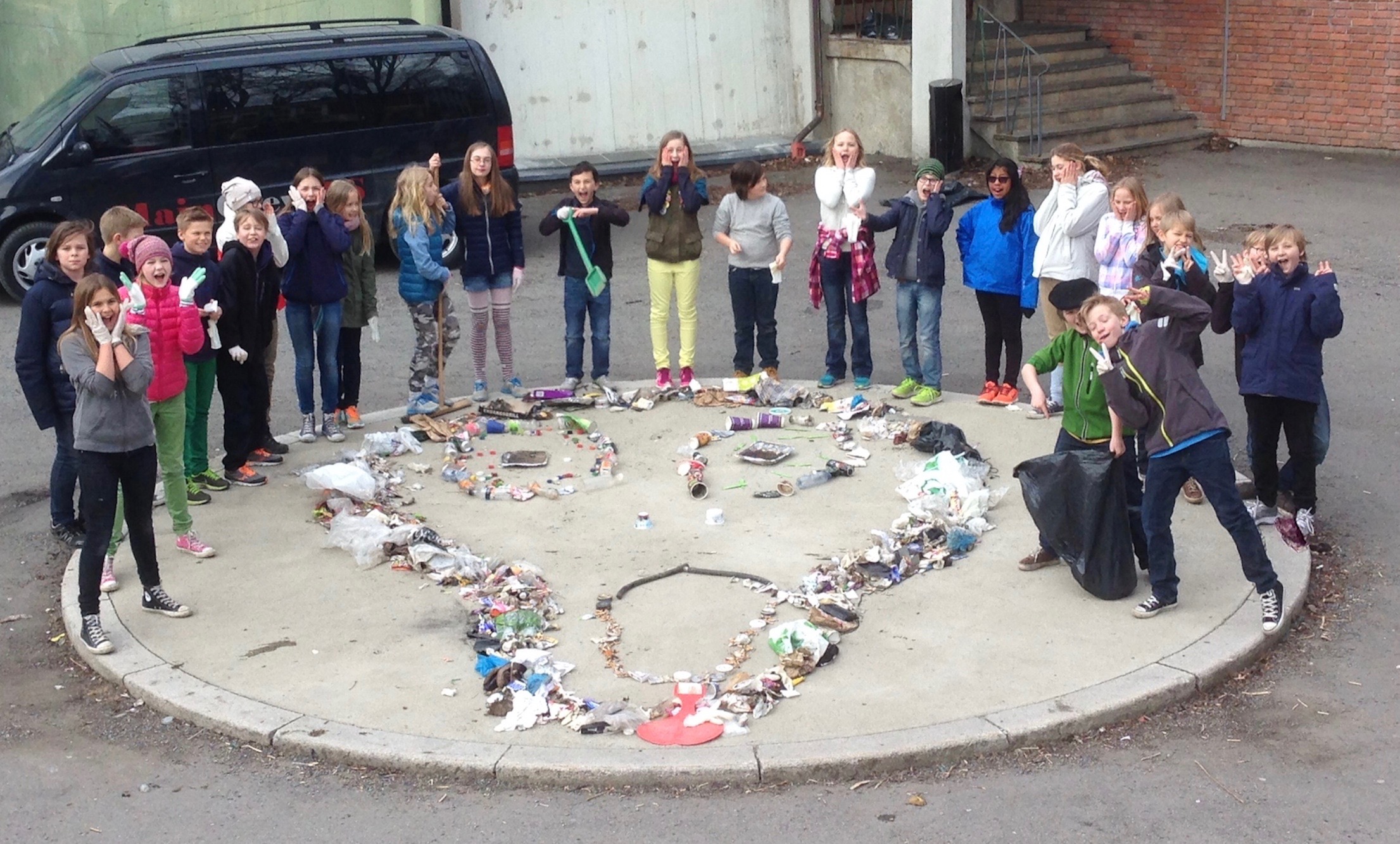 The Scream from Nature project is aiming at being used by schools as a visual, inclusive and creative way of talking about the environment, or to learn about Edvard Munch. There are a variety of ways to participate:
Arts: Learn about Munch. Be creative, select a material to make your own scream, take a photo of it and share it. Here is one example of a scream made by batteries. Our collaborating partner Salaby has special web pages where pupils can experience Munch in four newly produced films, and use interactive assignments and games to learn more about Munch's life and work. (Several languages can be selected).
Nature & science: Learn about the environment, waste, resource efficiency, recycling. Example: The pupils bring plastic, metal or electronic waste to the class room. Talk about the material and what it can be turned into, like metal cans to bikes, or plastic bottles to fleece pullovers. The pupils can do research about these topics. Put the material in the shape of the Scream, take a photo and share it
Mathematics: Calculate from drawing to wanted size. Calculate needed amount of material for a certain size. Calculate reduction in CO2 footprint as a result of recycling the material they have collected, etc.
The focus is a positive approach when it comes to the environmental issues – we help nature be heard, and every one can contribute!
Further, the visual contributions in form of the Screams being made, will be seen and appreciated by many people.
School classes wanting their work to be seen, are welcome to post them at Facebook and Instagram @thescreamfromnature.
Show some inspirational videos
Plastic bottle Scream in Norway – and how to take action for the environment >>>
Nature cleaning in Myanmar >>>
Steps to join the Scream from Nature
Choose a material – for example; collect waste, like plastic, metal or electronic waste that later can be recycled. Or find a material from nature, like leaves, sand, stones – anything to show the beauty of nature.
Put it in the shape of the scream. If you need a drawing to look at, here is one:
Take a picture of your Scream from Nature.
Share it on Instagram #thescreamfromnature and Facebook.
Thank you!!
 *PLEASE NOTE!
By submittting your photo, you allow us to use the picture freely for future projects. The Scream from Nature aims at spreading the project and your contributions as widely as possible. In addition to our web page, Instagram feed and Facebook page, we are seeking to create attention through printed material, exhibitions and other arrangements. Maybe your picture is selected! We are happy to receive photos with people, and then we take for granted that the needed permissions are in place.
Look what others did
Norwegian schools in 2013 and 2014 >>>